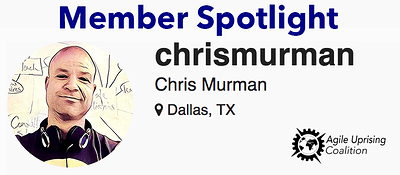 Chris Murman is the subject of our latest Member Spotlight. @chrismurman is an IT consultant, he is constantly in search of ways to make the work we do better. This means bringing a lean focus to the products we make, a holistic approach to agile business processes, or an intense focus on the technologies of tomorrow.
Colleen Johnson interviews Chris, and they discuss Chris' background, areas of interest and his unique view of agile.
If you are interested in being interviewed for a future Member Spotlight, reach out to one of our board members.